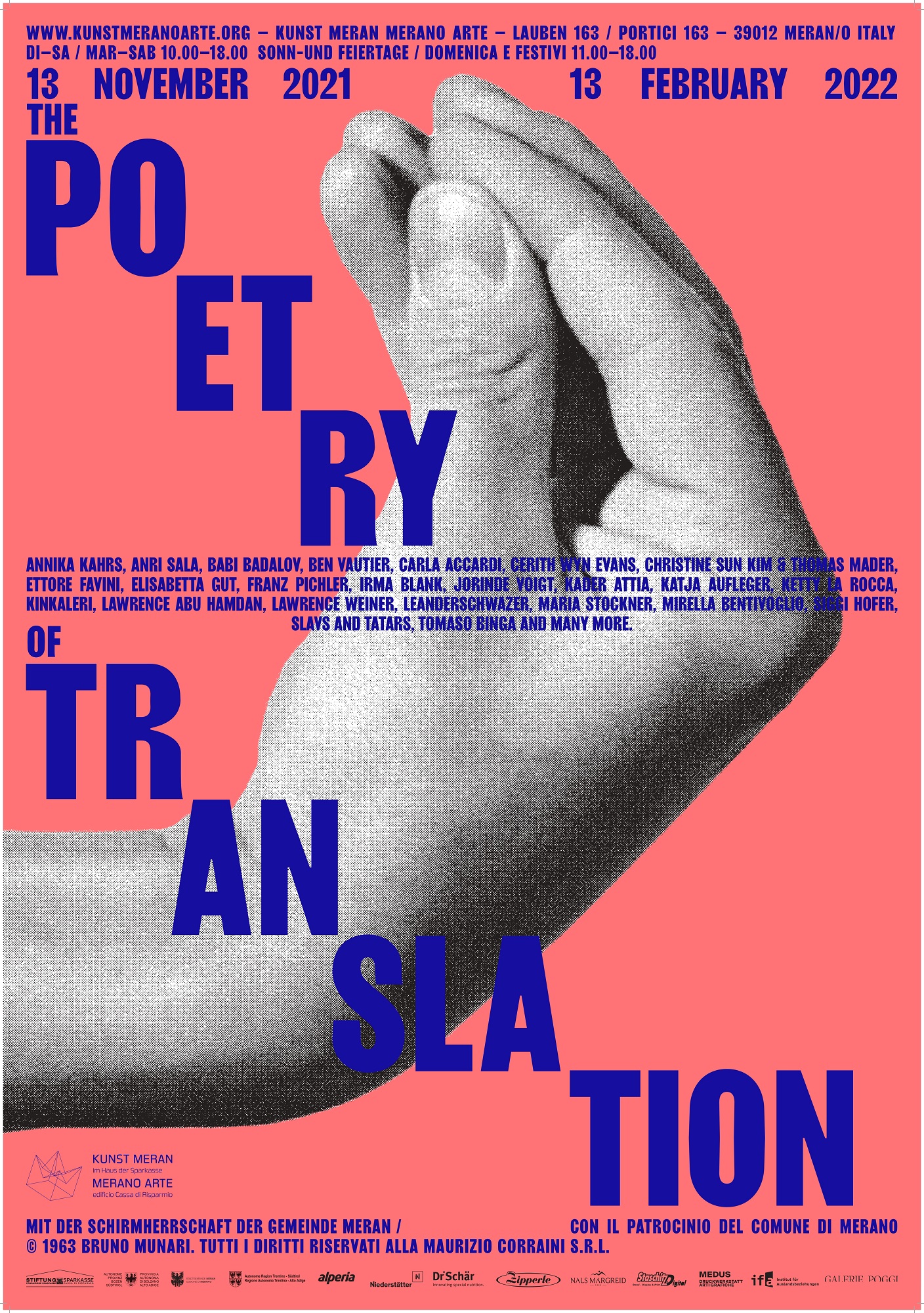 THE POETRY OF TRANSLATION
13.11.2021 - 13.02.2022
curated by Judith Waldmann
artists: Amelia Etlinger, Anna Esposito, Annika Kahrs, Anri Sala, Augusto De Campos, Babi Badalov, Ben Vautier, Carla Accardi, Cerith Wyn Evans, Christine Sun Kim & Thomas Mader, Elisabetta Gut, Ettore Favini, Franco Marini, Franz Pichler, Freundeskreis, Jorel Heid & Alexandra Griess, Heinz Gappmayr, Irma Blank, Johann Georg Hettinger, Jorinde Voigt, Kader Attia, Katja Aufleger, Ketty La Rocca, Kinkaleri, Lawrence Abu Hamdan, Lawrence Weiner, Leander Schwazer, Lena Iglisonis, Lenora De Barros, Lucia Marcucci, Maria Stockner, Marilla Battilana, Michele Galluzzo & Franziska Weitgruber, Mirella Bentivoglio, Otto Neurath, Siggi Hofer, Slavs and Tatars, Tomaso Binga.
This autumn THE POETRY OF TRANSLATION will be investigating the compelling world of translation. The group exhibition, presenting over 70 works by over 30 major national and international artists, sheds light on the process of translation from various novel perspectives.

KUNST MERAN MERANO ARTE: Programm 2022
Heute Morgen wurde die virtuelle Jahrespressekonferenz zum Programm 2022 von Kunst Meran Merano Arte abgehalten. Sie bot die Gelegenheit, die im Jahr 2021 durchgeführten Aktivitäten Revue passieren zu lassen und einen Ausblick auf das diesjährige Programm zu geben. KUNST MERAN MERANO ARTE beschreitet im Jahr 2022 weiterhin den Weg, sein Programm fern einer strikten Unterscheidung zwischen lokalen und internationalen, jungen und reifen sowie vertrauten und weniger vertrauten künstlerischen Positionen zu gestalten, und sucht dabei die enge Zusammenarbeit mit Künstler*innen. Nicht selten führt eine solche Zusammenarbeit dazu, das Werk einer anderen Künstlerpersönlichkeit zu beleuchten oder gar neu zu bewerten.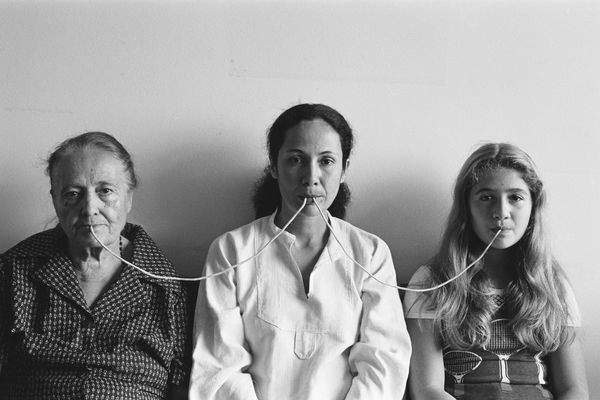 GREEN PASS
From Friday 6 August 2021, entry to Kunst Meran Merano Arte will only be possible with the "Green Pass" (EU Digital COVID Certificate).

A house for contemporary art in the old part of Merano
Open all year round, Merano Arte presents changing exhibitions in the fields of fine arts, architecture, literature, music, photography, and new media on 500 square meters of exhibition space over three floors. The body responsible for the institution is the non-profit association Kunst Meran Merano Arte, which is financed by public and private funds.
Join & Support
May we remind you that you can support Merano Arte with 5 parts per thousand for non-profit associations when you make your tax declaration?
Kunst Meran - Merano Arte tax number 01596020212. Thank you for your support!
Member of AMACI
Kunst Meran ist Mitglied der nationalen Institutionen und Museen zeitgenössischer kunst "AMACI" (Associazione dei Musei d'Arte Contemporanea Italiani)