Da lontano era un'isola
Opening: 15 March 2019, 19:00
Duration: 16 March - 16 June 2019
Artist: Katinka Bock, Giulia Cenci, Philipp Messner
Curator: Christiane Rekade
KUNST MERAN MERANO ARTE unites three solo shows on respective floors of the museum under the title Da lontano era un isola (From afar it was an island).
News
Die Führung von Kunst Meran traf Bürgermeister Paul Rösch und Stadtrat Nerio Zaccaria, um den erfolgreichen Abschluss der Arbeiten im Kunsthaus mitzuteilen.
Da das Haus in Sachen Brandschutz nicht den aktuellen Sicherheitsstandards entsprach und zudem die Alarmanlage nicht mehr funktionierte, wurde es für Kunst Meran zunehmend schwierig, die Werke der Kunstausstellungen adäquat und zu annehmbaren Kosten zu versichern. Zwischen Mitte Januar und Anfang März blieb das Kunsthaus geschlossen, damit die neuen Kabel, die Videoüberwachung und die Brandmelder in allen Stockwerken neu installiert werden konnten. Gleichzeitig wurde der gesamte Betrieb auf ein modernes, digitales System umgestellt.
Die notwendigen Anpassungsarbeiten wurden von der Gemeinde Meran und der Südtiroler Sparkasse als Besitzer des Hauses finanziert und kosteten dank eines sehr großzügigen Angebot der Firma Alarmcenter nur rund 20.000 Euro. Seit 15. März ist das Kunsthaus wieder regulär geöffnet.
Bürgermeister Paul Rösch zeigte sich bei der heutigen Abschlussbesprechung zufrieden über die Arbeiten: "Das Kunsthaus ist weit über die Grenzen von Meran hinaus eine Institution in Sachen zeitgenössischer Kunst, die mit ihren spannenden Ausstellungen jedes Jahr zahlreiche Einheimische und Gäste anzieht. Ein solches Projekt verdient unsere Unterstützung."
Georg Klotzner und Herta Torggler, der Präsident und die Direktorin von Kunst Meran, bedankten sich bei der Gemeinde und der Südtiroler Sparkasse sowie bei der Firma Alarmcenter für die Unterstützung.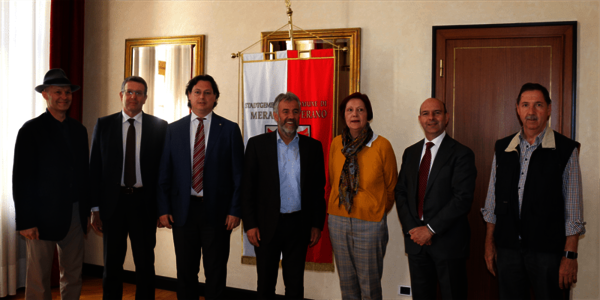 A house for contemporary art in the old part of Merano
Open all year round, Merano Arte presents changing exhibitions in the fields of fine arts, architecture, literature, music, photography, and new media on 500 square meters of exhibition space over three floors. The body responsible for the institution is the non-profit association Kunst Meran Merano Arte, which is financed by public and private funds.
Join & Support
May we remind you that you can support Merano Arte with 5 parts per thousand for non-profit associations when you make your tax declaration?
Kunst Meran - Merano Arte tax number 01596020212. Thank you for your support!
Would you like to become a friend or a member of Merano Arte?
For more information, please click here
Member of AMACI
Kunst Meran ist Mitglied der nationalen Institutionen und Museen zeitgenössischer kunst "AMACI" (Associazione dei Musei d'Arte Contemporanea Italiani)